September is National Disaster Preparedness Month
September, 2016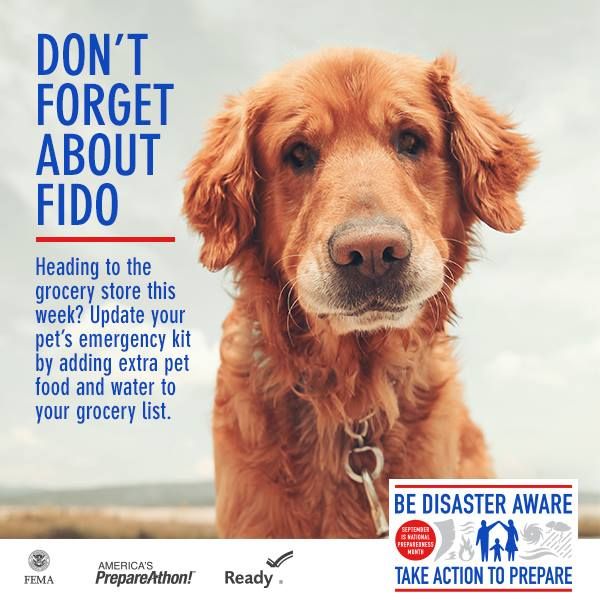 Disaster Preparedness for Your Pets
The potential for disasters in California, which may affect you and your pets, is very real. Whether it is a wild land fire, earthquake, severe weather, hazardous material spill, or flood, you may be asked to leave your home. The notice you receive may be early that allows you time to ready yourself and your pets, but what happens if you receive a knock on the door at 2:00 AM from a police officer that a levee has broke and flooding is imminent and you need to leave now. During the lessons learned from Hurricane Katrina in 2005, many lives were lost as a result of people not evacuating because they did not want to leave their pets. Shelters set up by the American Red Cross are prohibited from allowing other than service animals due to health restrictions. As a result, evacuation shelters that are pet friendly and other locations to care for family pets are now part of California's Emergency Planning. However, the success of these operations is greatly enhanced by having an:
"EMERGENCY PET CARE PLAN".
1. Have an Emergency Pet Care Plan
If you evacuate, take your pet with you. Most emergency shelters do not allow animals, so have a plan for your pet. Safe places to take your pet may include homes of friends or relatives, pet friendly hotels, pet kennels or veterinary facilities. Prepare a list of contact numbers in advance. Contact your local animal control facility for information in your area.
Choose a designated care giver, such as a neighbor, friend or relative to care for your pet in the event that you are unable to do so.
Affix a Rescue Alert Sticker to the front of your residence. The sticker should include the types and number of pets in your house and veterinarian information.
Ensure that your pet wears a collar with a rabies tag at all times. Consult your veterinarian about permanent identification, such as microchipping, or registration with a pet recovery database.
2. Assemble a Pet Emergency Kit Including:
Leash, harness and / or Pet carrier
1-Week supply of food and water with bowls
Medications and pet first aid kit
Copies of vaccination, medical records and a photo of you and your pet (for identification) in a waterproof container
Plastic bags, disinfectants, paper towels and for cats, a litter box
Blankets, toys and treats
3. During an Emergency
Keep your pets on hand at the first sign of an emergency. Don't allow your pets to roam loose following a disaster.
Call ahead to make arrangements for boarding your pet outside the danger area.
Keep your pet emergency kit close at hand.
If you leave your pet at home, provide responders with information on your pets by using the window/door sticker similar to the info below: