Preparing Your Dog or Cat for Holiday Boarding
November, 2016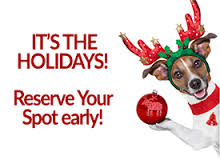 Holiday Vacations: Preparing your pet for boarding
Holiday season is as busy for professional pet boarding facilities as it is for Christmas elves and Thanksgiving chefs. Start early if you plan to board your dog or cat while you leave town for the holidays. That means inspecting your options, checking references and making sure pet vaccinations are up to date.
What Does the Kennel Require?
Don't be shy: Ask about what the kennel requires of its boarders (and their owners). You also need to be candid about whether your dog or cat has special medical, dietary or behavioral needs. Better to know whether the kennel can accommodate you now, than when you're ready to leave on your trip.
A reputable kennel will require a written record of immunizations. Make sure your pets' shots are up to date at least two weeks before boarding begins. Dogs should have shots for rabies, distemper, hepatitis, , parainfluenza, parvovirus(DHPP) and bordetella (kennel cough). Cats should have shots for rabies, panleukopenia or distemper, feline rhinotracheitis, calici virus and pneumonitis(FVRCP).
Your kennel will want thorough contact information for you and a local backup. You'll want to know if the boarding facility restricts what you can bring, including toys, bedding or special food. Is your pet on medication? Make sure the facility can administer the drugs and that the medication is stored in its original prescription container.
Other Considerations
Have you boarded your animal before? Your Big Holiday Trip might not be the best time for a tryout. Consider boarding your dog or cat for a half-day or a weekend, well in advance of your holiday trip, to get him or her familiar with the routine.
Find out ahead of time how the facility handles medical emergencies.
Include familiar toys. Consider leaving favorites behind, just to make sure they're not lost.
Reputable kennels make rates available in the front office. Make sure you're clear about what you're paying for, how late fees are structured and whether you can extend the stay if necessary.
Finally, when you're ready to leave your pet behind, just leave. Don't belabor the farewell. Pets can sense your anxiety. If you've done your homework, you don't have any reason to be anxious. Let this be a vacation for your pet, too.