Prepare your pet for severe weather!
February, 2017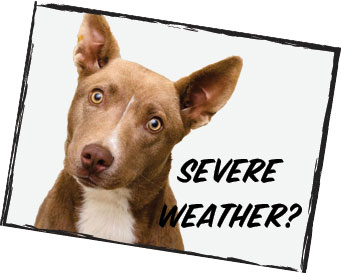 Find out what you can do before and during severe weather to prepare your pets.
The Federal Emergency Management Agency offers the following recommendations for pets in case of a disaster:
BEFORE THE DISASTER
Make sure your pets are current on their vaccinations. Pet shelters may require proof of vaccines.
If your pet requires a carrier, be sure it is the appropriate size– carriers should be large enough for the animal to stand and turn around.
Find a safe place to take your pet in the event of an emergency. Specialized pet shelters, animal control shelters, veterinary clinics and friends and relatives out of harm's way are all potential refuges for your pet during a disaster.
Contact hotels outside your immediate area to check policies on accepting pets and restrictions on number, size and species. Ask if "no pet" policies can be waived in an emergency.
DURING THE DISASTER
Call ahead to confirm emergency shelter arrangements for you and your pets.
Bring all pets into the house so that you won't have to search for them if you have to leave in a hurry.
Make sure all dogs and cats are wearing collars and securely fastened, up-to-date identification. Attach the phone number and address of your temporary shelter, or that of a friend or relative outside the disaster area.
Check to be sure your pet disaster supplies are ready to take at a moment's notice.
PET DISASTER SUPPLY KIT
Proper identification, including immunization records
A current photograph of you and your pet together
Ample food and water supply
A carrier or cage
A first aid kit
Medications
Collar and leash
Familiar items, such as favorite toys, treats or bedding
Sanitation supplies, such as a litter box, newspapers, paper towels and plastic bags
Remember, many evacuation shelters don't accept pets, and if they do, it is important to have a copy of your pet's complete vaccination record when you show up, otherwise your pet may be turned away. Officials say a shelter should not be your first choice. It's best to find friends or family members who live in non-evacuation zones who could take in you and your pets during the storm. It is recommended pet owners have a two-week supply of your pet's medications, food and water in case of outages and water shortages.
FEMA also recommends having your pets micro-chipped, so in the event you and your pets are separated, your pets can be quickly identified and reunited with you.