June is Adopt a Cat Month
June, 2017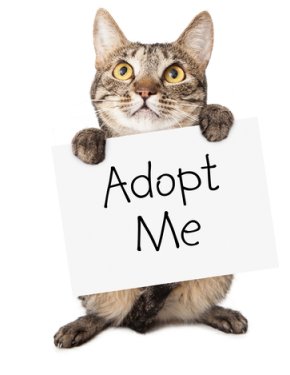 The American Humane Association estimates that four million cats and kittens end up in the shelters every year.
Shelters become overwhelmed with new litters of kittens each spring and summer. To highlight this overcrowding issue, the American Humane Association has promoted Adopt a Cat Month® since 1975. Shelters across the country participate in the cause including the ASPCA, with their Adopt A Shelter Cat Month Event
"Top Ten" Checklist for Adopting a Cat
If you're thinking about adopting a cat, consider taking home two.
Find a cat whose personality complements yours.
Pick out a veterinarian ahead of time and schedule a visit within the first few days following the adoption.
Make sure everyone in the house is prepared to have a cat before it comes home.
Budget for the short- and long-term costs of a cat.
Stock up on supplies before the cat arrives.
Cat-proof your home.
Go slowly when introducing your cat to new friends and family.
Be sure to include your new pet in your family emergency plan.
If you are considering giving a cat as a gift, make sure the recipient is an active participant in the adoption process.