February 28th to March 5th is National Severe Weather Preparedness
February, 2016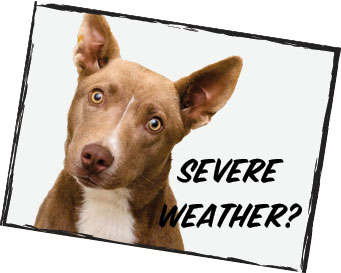 February 28th to March 5th is National Severe Weather Preparedness Week and as many of you are aware, it's never too early to start preparing for hurricane season.
Most of us have a plan in place for ourselves in the event of a severe weather event such as a tornado or hurricane. For some that means evacuation, while others will shelter in place. Whatever choice you have made for yourself and your family, have you taken the time to plan for the furry family members?
If you plan to shelter in place, make sure that you have enough food, water, cat litter, and any necessary medications on hand to last for at least seven days. This includes those of you with equine family members as well! Water isn't always drinkable immediately following a big storm, so fill an extra bucket (or barrel) for the non-humans. For outside pets, plan ahead so that you can provide them with a secure and safe location during a storm.
Evacuation isn't something that anyone looks forward to, but a little pre-planning can help things to run more smoothly for everyone.
DOGS
We strongly recommend to all of our clients that their dogs be accustomed to spending time in a kennel, even if they are house-trained, because you never know what kind of restrictions will be placed on pets in hotels and other shelter locations. Wire dog crates that fold flat are easy to store and take up less space in a vehicle.
Assemble an 'evacuation kit' containing the following items for each dog: an extra leash, collar or harness with identification, a copy of your pet's vaccination records, one week's worth of food, a couple of towels (these can double as extra bedding). Necessary medications can be kept nearby and added at the last minute.
Other items to consider if space is available include paper towels and pet safe cleaners, extra bedding, dry shampoo, food/water dishes, plastic bags for waste collection, chew toys, etc.
If your pet becomes car sick or very anxious during travel, contact your veterinarian's office at the start of hurricane season to obtain appropriate medications to add to your 'kit'.
CATS
Cats are not always happy to spend time in an enclosed space, but a medium sized crate that has room for a litter box and a bed will keep them safe for the duration of an evacuation. It will also prevent a stressed pet from escaping from a hotel room or unfamiliar house.
'Evacuation kit' supplies for cats include a breakaway collar and tags (even if your pet doesn't normally wear a collar), vaccination records, towels (as bedding and to cover a kennel/crate to make it feel more secure), a week's worth of food, a small or disposable litter box and litter. Add any medications your pet is taking before you leave.
Extra items to consider include catnip toys, a figure-eight harness and leash (for supervised time outside of the crate), Feliway Spray or Diffuser to reduce anxiety.
Even if your pet doesn't normally wear a collar and tag, it is vitally important they do so during an evacuation. Unidentified pets are very difficult to return to their families, and even the best behaved cat or dog can become frightened and run in a strange place. Consider having them microchipped if they aren't already.
CAGE PETS
Rabbits, guinea pigs, birds, and other small cage pets generally travel well in cages smaller than their usual living quarters. Provided with food, fresh water, and a little extra attention, most of them are content in smaller housing for some time.
Reptile or amphibian pets should be evacuated in their normal habitat if at all possible. If it is too large for transportation consider preparing temporary housing in a plastic storage container. Remember that these pets often have very specific temperature and lighting requirements, so you may need to bring their heat source and UV lights as well.